What next?
To qualify for your 5 hour driving course for just £99 all you have to do is send a text/call with your name, then "Driving lesson offer" or contact Ian or Sheila and we will send a text/call you back to confirm your driving lesson course. What have you got to lose? Maybe an hour of your time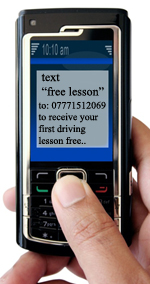 enjoying a driving lesson!
No Catches:
When things sound too good to be true they usually are, not so in this case. A to B Driving school offer you the assurance of conducting a normal driving lesson to our usual high standards of driving instruction. Local pick up and drop off as normal, should you wish to finish your driving lesson at another location please state where you would like to finish the driving lesson, before the start of the driving lesson.
What we offer:
A to B Driving School offer you the highest standards of driving instruction. We pride ourselves on our reputation as a driving school in Bury area. We go the extra mile!! To make you feel comfortable and relaxed on your journey of learning to drive. Our reputation as a driving school depends largely on your feedback to us. Why not read some of our past pupils testimonials?
Where we deliver:
We aim to keep up to date with modern teaching techniques by sitting various courses to improve on our instruction. We have been providing driving lessons and various other courses in the Bury area for the last seven years. We offer you the assurance of enjoying learning to drive, in a patient and friendly environment. The Green Badge displayed in the front window of our driving school vehicle, signifies that your driving instructor is Fully Qualified.